Organisation and Structure
As public-law corporations, the nine bars are autonomous, self-administered professional associations of lawyers and trainee lawyers in the Austrian Provinces. Some of their business is done directly at Plenary Meetings and some indirectly through their committees. The Presidents of the bars form the Council of Presidents.
The umbrella organisation of all bars is the Austrian Bar, a public-law corporation with its seat in Vienna. The Austrian Bar is responsible for safeguarding the rights and interests of the Austrian community of lawyers as a whole and for their representation. In particular, the Austrian Bar Presidents have the duty to represent and enforce the professional rules and the legal-policy positions defined by the Council of Presidents vis-à-vis political decision-makers and the public. In so doing the Austrian Bar speaks on behalf of the lawyers with one voice and implements the resolutions passed by its bodies.
The Austrian Bar Secretariat General is in charge of preparing and implementing the projects and measures resolved by the Austrian Bar bodies. The Presidents of the bars, the additional delegates elected by the Plenary Meetings of the bars from among the community of lawyers, and the trainee lawyers on the bars' committees constitute the Representatives' Meeting of the Austrian Bar.
As a member of the CCBE (Council of Bars and Law Societies of Europe) the Austrian Bar actively contributes to the rules of the legal profession and legislation in Europe. In 2004, the Austrian Bar established a representative office in Brussels.
The organisational chart below illustrates the structure.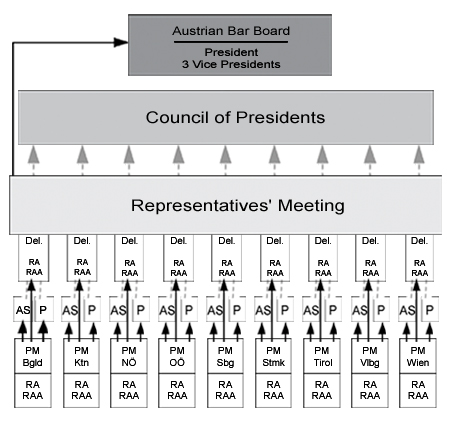 Key:
AS ... Ausschuss (committee),
Del ... delegates,
P ... President,
RA ... Rechtsanwälte (lawyers),
RAA ... Rechtsanwaltsanwärter (trainee lawyers)
PM ... Plenary Meeting
Bgld ... Burgenland
Ktn ... Carinthia
NÖ ... Lower Austria
OÖ ... Upper Austria
Sbg ... Salzburg
Stmk ... Styria
Tirol ... Tyrol
Vbg ... Vorarlberg
Wien ... Vienna